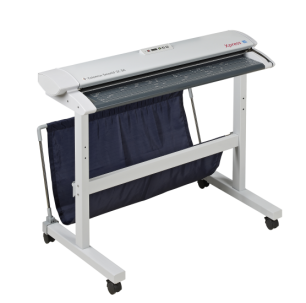 Nominated for the 2016 Wide Format & Signage Scanner of the Year. SmartLF SC gives you super fast results combined with high quality imaging. Use your SmartLF SC to produce great scans or copies of wide format maps, site plans, engineering drawings, blueprints, architectural renderings and many other technical documents.
Downloadable Documents
SmartLF SC 36 Xpress Series datasheet
SmartWorks TOUCH datasheet
SmartWorks Pro datasheet
The 'Xpress' difference
Colortrac SmartLF SC Xpress Series is now even faster for everyday scanning tasks.  At 200 dpi the paper speed has been doubled which means that an A0 / E size document scanned in 24-bit colour now scans at a full 12 inches per second, very nearly the same speed as a monochrome scan.   At 300 dpi the speed has also been doubled.  Scan speeds at higher dpis are not affected.  This performance requires a USB3 enabled computer connection.  For USB2 connections these speeds will be halved.
The new SmartLF SC 36 Xpress large format scanner is ideal for Technical and CAD Drawing Offices, Architectural, Engineering, Construction, Facilities Management and Electronic Document Capture (EDC).  Using the new SuperSpeed USB3 digital interface and SingleSensor digital imaging makes this wide format scanner the best solution for general purpose Technical Imaging and Color Graphics for documents up to E-size or A0 format.
SingleSensor Technology
The SmartLF SC 36 Xpress  is an addition to our expanding range of large format scanners that use our SingleSensor (Patent pending) digital imaging technology.  The Colortrac invention combines a full document width of individual contact image sensors (CIS) in a robust single-piece unit, enabling a significantly higher optical quality and dramatic increase in pixel alignment stability.  The SmartLF SC 36 scanner has 43,200 short image-path sensors that are illuminated by a custom designed bi-directional LED lighting arrangement that also provide "instant-on" low energy illumination making the SmartLF SC 36 Xpress.  Shadow effects in folds of creased documents are also reduced by the innovative active pressure roller that gently presses the document against the SingleSensor.  These features reduce optical errors to a minimum ensuring all scan and copy data is of the highest possible color and dimensional accuracy.   The scanner is designed and manufactured to meet or exceed all relevant international safety and electrical standards.
Larger Document Staging Area
The new design incorporates a larger face-up staging platform to make loading documents into the scanner faster and easier.  SmartLF SC 36 Xpress  is the first Colortrac scanner designed specifically to auto-size documents face-up in the centre of the scanner, a change which helps the operator to see what they are scanning and also to load creased documents more effectively.  For documents conforming to standard drawing sheet sizes (manual mode) the scanner can accept media side & center using SmartWorks Pro or at the side only using the SmartWorks TOUCH software.  The straight-through paper path of SmartLF SC 36 Xpress has a maximum media width of 38 inches (96.5cm) and accepts documents up to 0.08 inches (2 mm) in thickness.  This is more than enough to meet the requirements of AEC, CAD, GIS and the majority of work done by copy shop or service bureaux.
Dynamic Document Feed
The SmartLF SC 36 Xpress SingleSensor allows the use of a simplified arrangement of rollers to ensure that the document always stays in contact with the optics.  Driven rollers either side of the optical path and an active soft pressure roller running the full length of the SingleSensor allow the scanner to dynamically respond and actively work against the optical disturbances caused by document lift and paper creasing.  This technology ensures that delicate or fragile media such as newspaper and old blueprints can be safely and accurately scanned without problem.
SuperSpeed PC Interface
The SmartLF SC Xpress large format scanner series are the first scanners to incorporate the new SuperSpeed USB 3.0 digital interface.  With a dramatic x10 increase in the internal data transfer rates, the new USB 3.0 interface works at up to 5Gb/sec.  In terms of speed of scan data saved to the computer this represents more than double the previous rate of 28MB/sec (USB2) to 65 -85 MB/sec for USB3 depending on computer manufacturer.  SuperSpeed USB 3.0 is unique to Colortrac and allows the SmartLF SC 36 XPress scanner to work at full speed using higher resolutions on wider documents than ever before.  For those without a USB3 equipped computer SmartLF SC 36 Xpress enhanced USB2 circuitry achieves a 25% improvement in data speed (35MB/sec) above the previously recognised industry average transfer rate of 28MB/sec for a normal USB2 equipped pc.
Higher data transfer gives the SmartLF SC 36 operator the freedom to scan wider and at higher resolutions without affecting productivity.  If you have large amounts of archiving then SmartLF SC 36 Xpress is the perfect solution.
 
SC 36m Xpress
SC 36c Xpress
SC 36e Xpress
Upgradeable
m ➔ c m ➔ e
c ➔ e
N/A
Optical Resolution
1200dpi
1200dpi
1200dpi
Extended Resolution
Linear interpolation from 100 to 9600dpi in 1 dpi steps
Max Scan Width
36in (914mm)
36in (914mm)
36in (914mm)
Max Media Width
38in (965mm)
38in (965mm)
38in (965mm)
Max Media Thickness
0.08in (2mm)
0.08in (2mm)
0.08in (2mm)
Min Document Size
6.0in (152mm) x 6.0in (152mm)
6.0in (152mm) x 6.0in (152mm)
6.0in (152mm) x 6.0in (152mm)
Max Scan Length
Depends on file format and software application. See scanner software information
Accuracy
+/-0.1% +/-1 pixel
+/-0.1% +/-1 pixel
+/-0.1% +/-1 pixel
Auto Size Display
Detects and displays the width of the document as it is loaded (mm or inches)
Imaging Technology
SingleSensor
SingleSensor
SingleSensor
Data Capture (color/grayscale)
16-bit
48-bit/16-bit
48-bit/16-bit
Color Space
N/A
Raw RGB from scanner. sRGB using SmartWorks TOUCH.
Adobe RGB and Profiled RGB from optional SmartWorks Pro
Raw RGB from scanner. sRGB using SmartWorks TOUCH.
Adobe RGB and Profiled RGB from optional SmartWorks Pro
Scan Speed 1-bit mono (in/sec)
8-bit grayscale
@200dpi
13.00
13.00
13.00
 
 
 
 
Scan Speed 24-bit color (in/sec) @200dpi
N/A
6.0
12.0
 
 
 
 
Paper Path
Face-up, front entry, rear exit or rewind to front
Face-up, front entry, front exit with optional Document Return Guide
Interface
SuperSpeed USB 3.0 data transfer rates up to 85MB/sec Optimised USB2 transfer rates up to 35MB/sec
Power Requirements
External power supply 100~240VAC auto-sensing +/-10%, 50-60Hz
Scanner power consumption: 53W (scanning), 5W (standby)
Operating conditions
10oC – 35oC, 35% – 80% relative humidity non-condensing
Weight & Dimensions (WxHxD)
Scanner: 53 lbs (24 kg) / 45.1 x 6.0 x 15 inches (115 x 15.2 x 38.1 cm)
Packed: 60 lbs (27.5 kg) / 50.6 x 9.3 x 20 inches (128 x 24 x 52 cm)
Host platform
Windows 10, Windows 8, Windows 7, Windows Vista – 32-bit and 64-bit architectures
Certifications
ENERGY STAR qualified, CB, CE, CCC, FCC, UL, RoHS compliant
Included software
SmartWorks TOUCH
Simple-to-use software for scanning, copying and printing. Intuitive interface designed for touch screens or mouse and keyboard
operation. Select the mode, choose the document type closest to the original and press go. All document types can be individually
modified.
Save to PDF, PDF/A, MPDF, JPEG, JPEG2000, PNG, AutoCAD DWF, TIFF, TIFF LZW, TIF-G4, MTIFF, PCX, BMP. Batch scanning, full preview and all Windows driven printers supported.
Optional Software
SmartWorks Pro
2 product versions SCAN / SCAN & COPY ~ professional solutions for best in class image restoration, scan productivity & hi-fidelity copy quality. Fully colour-managed scan, view & copy system.
Accessories

Floor Stand

– includes Paper Catch Basket plus optional PC, Monitor, Keyboard and Mouse mounting kit.

Repro Stand

– adjustable height to fit most popular Large Format printers.  Includes Keyboard tray, PC & Flat screen monitor mount- ing kit. Optional Document Return Guide for front-feed, front-return capability.
Notes
1 Power requirements for SC Xpress models
2 SmartLF SC Xpress scanners and SmartWorks Pro software scanning at 9600dpi in any colour mode to a TIFF uncompressed file format is restricted to a scan width of 40mm (1.5") and scan length not exceeding 160mm (6.3"). Scanning larger widths at 9600 dpi or scanning to other file formats is not possible
3 USB3 is required to achieve uninterrupted maximum scan speeds for all SC Xpress Series scanners at the 'e' upgrade level for originals wider than 24″ scanned above 200dpi. Colortrac recommends the software speed or quality settings be used to eliminate stop/start and maximise scan image quality at higher scan dpi/width combinations if a USB3 connection is not available
4 Thick documents up to 2mm must be flexible. Colortrac does not guarantee quoted speeds for thick media. Thick media should be scanned at reduced speeds to obtain optimal image quality. For heavy and/or thick materials the operator may need to support the document as it enters and exits the scanner. For larger sizes of heavy and/or thick media Colortrac recommend the scanner be placed first on a flat surface and the operator supports the document as it enters and exits the scanner. Colortrac recommends the Paper Return Guide is removed when using heavy and/or thick media in the scanner
200% improvement of scan speeds at 200 dpi and 300 dpi
Single Sensor: Unique Colortrac CIS modules
FireFly: SuperSpeed USB3
SureDrive Single driven media pressure roller
ClearView Innovative Dual LED lighting
WinSync Optimised Windows driver technology
ScanOnce Efficient scanning and copying workflow
SmartWorks Pro SCAN & COPY software – industry leading, professional scanning and color-copying software
SmartWorks Pro SCAN software – industry leading, professional scanning software
Document Return Guide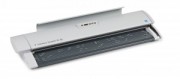 The SmartLF SC 36 Xpress has an optional Document Return Guide that allows users to have scanned documents directed over the top of the scanner to the front for easy retrieval.  It also allows users to place the scanner on desktops or on Floor Stands against walls to minimize the overall footprint and to maintain the operators ease of use when space around the scanner is restricted.
Floor Stand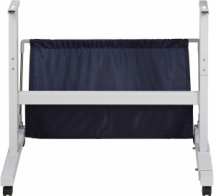 Minimizes the installed footprint of your wide format scanner and positions the document feed at a comfortable and convenient height.  A basket catches scanned documents as they are ejected from the scanner and collects them at the back of the scanner for recovery later.
PC and LCD Flat Screen mounting Option* for floor stand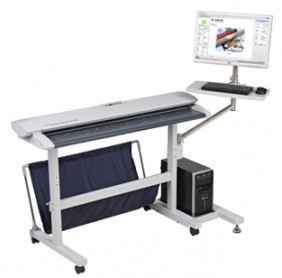 PC and LCD flat screen mounting option combines wide format scanner and computer into a self-contained scan processing station that can be moved around an office as required.  The PC and flat screen mounting kit requires the floor stand (see above).
*Note: the PC, LCD flat screen, mini-keyboard and mouse are not included.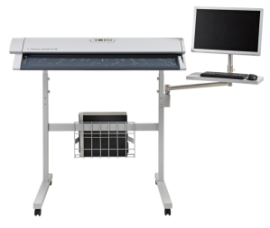 Repro Stand*
An alternative floor stand that holds the scanner above most popular large format printers including products from HP, Canon, Epson and other printer manufacturers.  Repro Stand conveniently holds a PC, flat screen and mini-keyboard and minimizes the combined footprint of scanner and printer creating a practical, high productivity workstation. Scanner height is adjustable through four height settings.
Maximum height of the printer that can be accommodated under the Repro Stand is 45.5″ (115.5 cm).  There is no limit to the width of the printer.
*Note: the PC, LCD flat screen, mini-keyboard and mouse are not included.
Document Carrier Sheets
Packed in tubes of 5 sheets.
Available in ARCH D / A1 and ARCH E / A0 size, with black or white backing sheet. Hinged on the short side.
Scan and protect dry, ageing and/or valuable documents.
Protect the scanner glass from documents contaminated with storage dirt and dust.
Scan badly torn documents or documents with missing edges.
Scan multiple lightweight and/or odd shaped originals & upholstery patterns.
Scan transparencies more effectively.
White backing sheet improves light reflection and scan quality.
Black backing sheet prevents the back side image appearing underneath the image of the front side when scanning newspapers, double-sided maps and other semi-transparent originals printed on both sides.
Reliability of  Auto-Size Finder (ASF) function
The reliability of the Auto-Size Finder (ASF) function embedded in Colortrac SmartLF scanners is dependent on a number of factors.  In no particular order these include:
Scanner Stitch
Scanner Calibration (sometimes referred to as Normalization)
Contrast of the original compared to the media hold-up / hold-down roller
Type, thickness & flexibility of the original media (paper, film etc)
Age / wear & tear of the media hold-up / hold-down roller
Contamination by dirt and dust in the media path of the scanner – on the scan glass and/or on the media hold-up / hold-down roller
Scratches on the scan glass on the imaging line
Skew of the original during load and staging in the scanner
Side or centre feed in the scanner
Ambient lighting, temperature and relative humidity of the scanning environment
Colortrac R&D qualify the scanner design and ASF using as many different size originals as is practical.  The minimum width is 200mm (8inches), maximum width is up to the maximum imaging width of the scanner range being developed, with as many different media types/colours as possible.  Tests are conducted at 21C +/-2C, 50% +/- 5% RH in a normal office lighting environment.
Each original document in the test set is loaded and staged a minimum of 4 times and sized correctly on a new, unused scanner.  The overall criteria used to qualify the scanner / ASF design is that the edges are detected so that no more than 1mm of original is clipped and no more than 4mm of hold down roller is visible on each side. This measurement is taken at 15mm from the top of the image.
Colortrac makes no warranty and accepts no liability for any loss or damages arising from the use or reliability of the ASF function.  If the user finds that the combination of scanner, original media, scanner age, environmental and other conditions above prevent a reasonably reliable ASF function, then the document size should be selected from the standard sizes offered by the software or custom sizes specified depending on the requirements of the job and variation in media sizes being scanned.