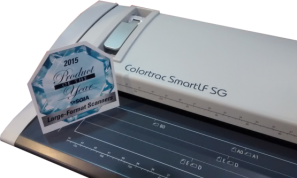 Waste no time with Colortrac's innovative new SmartLF SG Series large format scanners, winner of the SGIA 2015 Large Format Scanner of the Year and Nominee for Wide Format Imaging's 2016 Scanner of the Year. Scan your thick media and wide format up to 44 inches. Our fastest ever CCD scanners are full high definition (HD) with 1200 dpi optical resolution and benefit from instant-on LED lights providing high productivity from the moment you power on, with no warm up required and no waiting around.
Downloadable Documents
 SmartLF SG Series Datasheet
 SmartWorks Pro Datasheet
Sharp and accurate – with superb color
The SmartLF SG  Series 36″ and 44″ scanners are perfect for capturing sharply defined detail on technical drawings and maps as well as the vibrant, accurate colors needed by graphics professionals.
SmartLF SG Series large format scanners have all the advantages of CCD technology's superior color imaging – the ability to scan a wide gamut (range of colours) and a high dynamic range (ability to see detail in dark and light areas) – combined with 1200 dpi optical resolution, the highest optical resolution available in any CCD wide format scanner in the market today. This makes them perfect for capturing vibrant, accurate colors for graphics professionals as well as sharply defined line detail on technical documents and maps.
SmartLF SG scanners use the advanced SureDrive paper transport system to maintain accurate document positioning as the document passes through the scanner. Combining this with the ClearView bright white bi-directional LED illumination system ensures that with SG even folded documents scan accurately and as shadow-free as possible.
Images are scanned using 48-bits (color) or 16-bits (monochrome), with the best 24 and 8-bits selected as image data respectively.
All the benefits of CCD – without the downsides
Traditional CCD scanners have superior color imaging but are disadvantaged by their fluorescent lighting systems. By using white LEDs instead of fluorescent tubes, the SmartLF SG is able to maximize the benefits of CCD while saving time and energy.
Simplified thick media system
Thick media operation is now full-time on all SG Series scanners.  To raise the lid and increase the thickness capability of the scanner raise the lever on the left-hand side of the scanner lid to its maximum position then load the document manually.   Lower the lever to grip the media and begin scanning.  All media must be loaded panel-side justified with SG/
No warm up, no waiting
While a fluorescently lit scanner can be used within five minutes of switching on, it should really be left to warm up for about 30 minutes in order for the tubes to reach their optimum light intensity and for the tube temperature to reach equilibrium. If this is not done color match and possible stitch inaccuracies caused by a still cold chassis may result.
ClearView white LED illumination used in SmartLF SG produces high quality scans just like fluorescent illumination but unlike fluorescent tubes the color temperature from LEDs remains stable from first power-up to final power-down.  No more waiting for warm-up to complete, simply turn SG scanners on and scan!
2GB scan data memory
SmartLF SG is the first scanner from Colortrac to have 2GB of onboard scan data memory. This ensures smooth progress of the document through the scanner even if the computer  experiences sudden sluggishness or the Ethernet network is unexpectedly busy.
Significant power saving
SmartLF SG uses nearly 30% less power when scanning and 94% less power when idle. The scanner has a programmable timer that switches the unit into power saving (ENERGY STAR®) mode when it is not operated for the defined period.
In addition the 'instant-on' LED lighting inside every SG means that you can leave the scanner switched off most of the time and only turn it on when you need to use it.
Light for life
While you would normally expect to replace fluorescent tubes every year or two, LEDs are long life. Unlike fluorescent tubes, which stay on the whole time the scanner is switched on, LEDs only come on during the actual scanning process. They have an estimated working life of 50,000 hours which equates to over six years of constant 24/7 scanning!
Less calibration
Fluorescently lit scanners require more frequent calibration because the tubes age and change characteristics over their life. LEDs maintain consistent output and because of this maintenance is required far less frequently.
No mercury
Unlike fluorescent tubes LEDs do not contain mercury, which makes them more environmentally friendly.
More cameras – more accuracy
The SmartLF SG has six CCDs across the scan width to minimize geometric distortion, more than any other similarly sized scanner.
Traditional CCD scanners are prone to stitch and accuracy issues caused by sensor misalignment. These are minimized in the SmartLF SG by housing the six CCDs within a rigid monocoque camera chassis.
High productivity
Fast scanning speed
All models scan monochrome at 13 inches per second (200 dpi). If you need high volume color scanning, choose the express color e model which scans color at 8 inches per second (200 dpi).
Gigabit Ethernet connectivity
The SmartLF SG large format scanner is networkable – it has a Gigabit Ethernet connection as well as a USB2/USB3 connection. The Gigabit Ethernet port can transmit scan data between the scanner and the PC as fast as the USB3 port network traffic allowing.  An Ethernet connection also allows placement of the scanner further from the host PC than when using a USB2 or USB3 connection.
"Scan-it-once" philosophy
(Requires SmartWorks Pro software, not included with scanner.)
With other wide format scanners operators often need to perform multiple pre-scans of selected image areas to get scan settings right. With the SmartLF SG large format scanner and SmartWorks Pro software scanning only needs to happen once.  Once the scan data is on-screen thresholding and any image enhancements required on the scan such as sharpening or background clean-up can be made in real time.
Scan-it-once technology gives you a huge workflow advantage. You can perform quality assurance and adjustments in-line, "right-first-time", instead of needing to re-scan quality control failures off-line after batch scanning is completed.
An additional advantage of scan-it-once technology is that it minimizes document movement (and possible wear) through the scanner and document skew caused by repeated back and forth "checking".
Intelligent Adaptive Thresholding (IAT)
IAT allows operators to create better quality scans of dirty documents very quickly by reacting automatically to a range of different background dirt intensities.
Preserves delicate originals
The SmartLF SG SureDrive  paper transport system applies the minimum force necessary for preserving delicate originals, while achieving the required traction and accuracy to ensure images are sharp and shadow free.
Professional-level scan and copying software
SmartWorks Pro is available in two versions and either SmartWorks Pro SCAN or SmartWorks Pro SCAN & COPY must normally be purchased separately to use with this scanner .  A trial version of the software operating exactly as the full version but watermarking every scan and copy is shipped with each SG scanner.  Every SG scanner includes a basic Twain interface for use inside viewing certain applications designed to support Twain.  See website for more details.
Simple scanner control panel interface
The basic but effective scanner control panel has buttons to start and stop any scan or copy as well providing manual control over document movement.
Plug 'n' Play USB2/USB3 and Ethernet interfaces
Simply plug the scanner into your PC and use it.  The SG scanner automatically detects whether the port on the computer is USB3 or USB2 and alters the maximum scan speed so the computer is not overloaded with data. When using Ethernet SmartWorks Pro software is designed to detect any SG scanner attached to the network automatically and operates using DHCP networking protocol.
Low maintenance
SmartLF SG requires minimal service and calibration. The utility software included with it provides you with all the maintenance applications you need to keep your large format scanner in prime condition and up-to-date with the latest firmware and drivers. The scan glass is held down by magnets for quick and easy removal or replacement and there is easy access to the SmartLF SG's paper feed for cleaning.
Environmentally friendly
SmartLF SG wide format scanner is RoHS compliant; energy efficient (it has earned the ENERGY STAR®); does not use consumable fluorescent lamps which contain mercury; uses recycle friendly components; and is optimized for quiet operation.
Upgradable
The SmartLF SG large format scanner is available in three models: m (monochrome), c (color) and e (enhanced color).
If your initial requirement is for a monochrome wide format scanner only, you can buy a monochrome scanner now and upgrade to color if and when you need it. If your initial requirement is for infrequent color scanning, you can buy a color wide format scanner now and upgrade to a faster enhanced color model should your color scanning volume increase.
You can upgrade your scanner quickly and easily, by email. There is no need for you to return the scanner to us or for a service engineer to call.
 
SG 36m/44m Mono
SG 36c/44c  Color
SG 36e/44e Express Color
Upgradeable
m ➔ c
m ➔ e
c ➔ e
N/A
Optical Resolution
1200dpi
1200dpi
1200dpi
Software Scan Resolution
Up to 1200 dpi (optical) and 96001dpi (interpolated) with SmartWorks Pro Scan
and SmartWorks Pro Scan & Copy software
Max Scan Width
36in (91.4 cm) / 44in (111.8 cm)
36in (91.4 cm) / 44in (111.8 cm)
36in (91.4 cm) / 44in (111.8 cm)
Max Media Width
46in (116.8cm)
46in (116.8cm)
46in (116.8cm)
Max Media Thickness
0.6in (15mm)
0.6in (15mm)
0.6in (15mm)
Max Scan Length
Depends on file format and software application. See scanner software information
Accuracy
+/-0.1% +/-1 pixel
+/-0.1% +/-1 pixel
+/-0.1% +/-1 pixel
Imaging Technology
6 x CCD
6 x CCD
6 x CCD
Data Capture (color/grayscale)
16-bit
48-bit/16-bit
48-bit/16-bit
Color Space
N/A
Raw RGB, sRGB, Adobe RGB and Profiled RGB using SmartWorks Pro

Raw RGB, sRGB, Adobe RGB and Profiled RGB using SmartWorks Pro

Scan Speed 1-bit mono (in/sec) @200dpi
13.00
13.00
13.00
Scan Speed 8-bit grayscale (in/sec) @200dpi
13.00
13.00
13.00
Scan Speed 24-bit color (in/sec) @200dpi
N/A
4.00
8.0
Productivity  (documents/hour)
474
229 2
365 2
Paper Path
Face-down, front entry, rear exit
Interface
USB 3.0 interface for data transfer rates up to 85MB/sec. Optimised USB2 interface for transfer rates up to 35MB/sec.
Network ready Gigabit Ethernet interface.
Power Requirements
External power supply 100~250 VAC autosensing +/-10%, 50-60 Hz
Scanner power consumption 72Wh (scanning) 2.5Wh (standby)
Operating conditions
10oC – 35oC, 35% – 80% RH non-condensing
Weight & Dimensions (LxWxH)
Scanner: 112 lbs (51 kg) / 56 x 18 x 8 inches (143 x 45 x 21 cm)
Packed: 123 lbs (56 kg) / 62 x 22 x 12 inches (157 x 57 x 31 cm)
Operating System and Interface(s)
Windows 10, Windows 8, Windows 7, Windows Vista, 32-bit and 64-bit architectures.  USB2, SuperSpeed USB3 and GBit Ethernet
Certifications
ENERGY STAR Qualified, UL/cUL, FCC, CB, CE, C-TICK, VCCI, PCT/EAC, CCC, RoHS
Included Software
SmartWorks TWAIN, Evaluation copy of SmartWorks Pro SCAN & COPY (watermarks scans and copies).
Optional Software
SmartWorks Pro SCAN & COPY software – industry leading,professional scanning and color-copying software
SmartWorks Pro SCAN software – industry leading, professional scanning software
Accessories
Floor Stand (includes catch basket), Document Return Guides, Repro Stand, PC Mounting Kit (floor stand required)
Notes
1 SmartLF SG scanners and SmartWorks Pro software when used to scan at 9600dpi in any colour mode to a TIFF uncompressed file format is restricted to a scan width of 40mm (1.5") and scan length not exceeding 160mm (6.3").  Scanning larger widths at 9600 dpi or scanning to other file formats is not possible.
2 Productivity for color scanners using maximum color speeds for c and e models. Mono productivity using maximum m model scan speed. Assumes fixed paper size (no paper size detection) batch scanning at 200dpi. Includes load and eject time.
Our FASTEST most PRODUCTIVE CCD scanner
8ips color and 13ips monochrome @200dpi
NEW simple-to-use thick media system
Enhanced document size detection system using mix of scan data and placed optical sensors
1200dpi High Definition (HD) optical resolution
36in /44in image width – perfect for scanning oversize
A0/E-size documents with 36″ model and up to B0 with 44″
NEW Magnetic document guide for easier, reliable and skew free loading in high volume operation
2GB of scan data RAM for effortless 'no-stop' scanning
TWAIN driver and evaluation copy of SmartWorks Pro
High density 48-bit color graphics and 16-bit monochrome data capture for accurate color and excellent monochrome images
Reliable media feed system with advanced 2+3 allwheel drive
Versatile media handling up to 0.6in (15mm)
On-site upgrade from monochrome to color and express color – via email
CCD sensor technology with unique, bi-directional LED lighting system for maintenance free, low cost operation from power-on, no warm-up, no waiting
ENERGY STAR® Qualified
Plug and play SuperSpeed USB3 / USB2 or Gigabit Ethernet connection to your network
Scanner automatically limits maximum paper speed depending on the interface in use
Optional document return guide
Range of stand accessories including adjustable repro stand for use with many types of large format printers
SmartWorks Pro SCAN & COPY software – industry leading, professional scanning and color-copying software
SmartWorks Pro SCAN software – industry leading, professional scanning software
Document Return Guide
The SmartLF SG has an optional Document Return Guide system that allows users to have scanned documents redirected over the top of the scanner to the front for easy retrieval.  It also allows users to place the scanner on desktops or on Floor Stands against walls to minimize the overall footprint and to maintain the operators ease of use when space around the scanner is restricted.
Floor Stand
Minimizes the installed footprint of your wide format scanner and positions the document feed at a comfortable and convenient height.  A basket catches scanned documents as they are ejected from the scanner and collects them at the back of the scanner for recovery later.
Floor Stand with optional PC Mount Kit*
PC and LCD flat screen mounting option combines wide format scanner and computer into a self-contained scan processing station that can be moved around an office as required.  The PC and flat screen mounting kit requires the floor stand (see above).
*Note: the PC, LCD flat screen, keyboard and mouse are not included.
Repro Stand
An alternative floor stand that holds the scanner above most popular large format printers including products from HP, Canon, Epson and other printer manufacturers.  Repro Stand conveniently holds a PC, flat screen and mini-keyboard and minimizes the combined footprint of scanner and printer creating a practical, high productivity workstation. Scanner height is adjustable through four height settings.
The stand height is adjustable in four increments allowing a Maximum height of the printer that can be accommodated under the Repro Stand of 45.5″ (115.5 cm).   There is no limit to the width of the printer.
Stand height – minimum: 30.9" (78.4cm), or maximum: 46" (116.9cm)
Stand height including the Document Return Guide – minimum 41.22 (104.6cm), or maximum 56.3" (143.1cm)
Stand Depth – minimum: 31.5" (88.0cm), or maximum depth including extended keyboard tray and PC basket combination – 37.3" (94.8cm)
Stand Width – maximum 60.5" (153.6cm)
Adjustable Monitor Support Arm – minimum height: 50.7" (128.9cm), or maximum height from floor 57" (144.9cm)
Document Carrier Sheets
Packed in tubes of 5 sheets.
Available in ARCH D / A1 and ARCH E / A0 sizes, with black or white backing sheet. Hinged on the short side.
Scan and protect dry, ageing and/or valuable documents.
Protect the scanner glass from documents contaminated with storage dirt and dust.
Scan badly torn documents or documents with missing edges.
Scan multiple lightweight and/or odd shaped originals & upholstery patterns.
Scan transparencies more effectively.
White backing sheet improves light reflection and scan quality.
Black backing sheet prevents the back side image appearing underneath the image of the front side when scanning newspapers, double-sided maps and other semi-transparent originals printed on both sides.
Reliability of the auto sheet size detection function
The reliability of this function embedded in Colortrac SmartLF scanners is dependent on a number of factors.  In no particular order these include:
Scanner Stitch
Scanner Calibration (sometimes referred to as Normalization)
Contrast of the original compared to the media hold-up / hold-down roller
Type, thickness & flexibility of the original media (paper, film etc)
Age / wear & tear of the media hold-up / hold-down roller
Contamination by dirt and dust in the media path of the scanner – on the scan glass and/or on the media hold-up / hold-down roller
Scratches on the scan glass on the imaging line
Skew of the original during load and staging in the scanner
Ambient lighting, temperature and relative humidity of the scanning environment
Colortrac R&D qualify the scanner design and ASF using as many different size originals as is practical.  The minimum width is 200mm (8inches), maximum width is up to the maximum imaging width of the scanner range being developed, with as many different media types/colours as possible.  Tests are conducted at 21C +/-2C, 50% +/- 5% RH in a normal office lighting environment.
Each original document in the test set is loaded and staged a minimum of 4 times and sized correctly on a new, unused scanner.  The overall criteria used to qualify the scanner / ASF design is that the edges are detected so that no more than 1mm of original is clipped and no more than 4mm of hold down roller is visible on each side. This measurement is taken at 15mm from the top of the image.
Colortrac makes no warranty and accepts no liability for any loss or damages arising from the use or reliability of the auto size detect function.  If the user finds that the combination of scanner, original media, scanner age, environmental and other conditions above prevent a reasonably reliable auto size detect function, then the document size should be selected from the standard sizes offered by the software or custom sizes specified depending on the requirements of the job and variation in media sizes being scanned.
Scanning Thick Media
Colortrac does not guarantee quoted speeds for thicker media. Thicker media should be scanned at reduced speeds to obtain optimal image quality.  The achieved scan accuracy may vary depending on the operating environment and the type & thickness of media.
Scan Rate
The scan rate is proportional across the full range of resolutions supported by the scanner.  Actual scan times and quoted top speeds will depend on the host performance and are not guaranteed for all media types.
Competitors quote scan speeds using 'Turbo', 'Normal' or 'High Speed' modes that reduce image quality whilst suggesting that scan resolution is doubled.  These modes use software interpolation to create 'virtual image pixels' from a lower resolution scan thereby increasing the number of pixels in the scan direction (&/or X-direction) in an attempt to simulate higher image resolution.  Colortrac SmartLF scanners are designed to scan images fast at the optimum resolution required to capture the original image detail without compromising quality.
Maximum Resolution
The maximum resolution & size (width & length) selectable for an image depends on the scan software, is limited by the file format specified, the available disk space and the computer operating system.
Routine Maintenance
Operation in mobile, dusty or variable temperature environments may require more frequent scanner maintenance.